Scoop.it!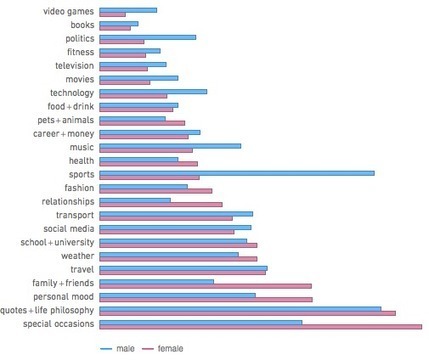 Stephen Wolfram shares interesting Facebook data analysis finds from the Data Donor program of Wolfram|Alpha Personal Analytics for Facebook.
BeerBergman's insight:
Nos données privées... à quel point sont-ils différentes des données privées des autres ? A croire Wolfram, nos histoires se ressemblent et il décrit dans cet article, très intéressant, comment on peut observer les données mesurées. A lire. Extrait,
***
"For everyone there'll be a different detailed story behind the structure of their cluster diagram. And one might think this would mean that there could never be a general theory of such things. At some level it's a bit like trying to find a general theory of human history, or a general theory of the progression of biological evolution. But what's interesting now about the Facebook world is that it gives us so much more data from which to form theories."
***
"Some of this is rather depressingly stereotypical. And most of it isn't terribly surprising to anyone who's known a reasonable diversity of people of different ages. But what to me is remarkable is how we can see everything laid out in such quantitative detail in the pictures above—kind of a signature of people's thinking as they go through life."