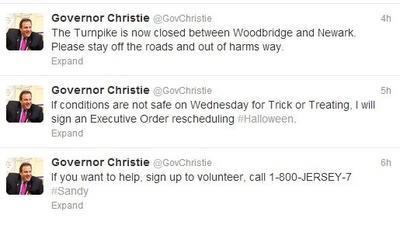 It's warm and sunny here in Los Angeles, but on my computer, a storm has been brewing all day.
From my cubicle in downtown Los Angeles I've been nervously anticipating the arrival of Hurricane Sandy since arriving at work this morning - -following along on social media networks as people share news stories, crazy weather photos (both real and fake), their fears, and choice quotes from the Twitter feeds of governors of the states that will soon be hit.
We don't need to be from New Jersey or watching television to know that Gov. Christie is deeply disappointed in the people who didn't evacuate, and shocked by the images coming out of the Jersey Shore. It's all on his Twitter feed.
On Twitter, #Sandy is the lead trending phrase of the day followed by New Jersey (where the storm is slated to hit first). FEMA, East Coast, Long Island and Tappen Zee Bridge have all showed up in the trending list Monday too. And in my personal Twitter page Sandy posts have accounted for about 1 in 10 tweets all day.
The Sandy storm is raging on Facebook as well where the terms "Sandy," "Hurricane Sandy," and "Hurricane" were the most-used terms for Facebook users in the U.S. on Monday, according to Facebook's Talk Meter -- a tool that measures chatter on Facebook.
Other popular phrases were "stay safe" and "be safe" as well as "storm" "east coast" "praying" "power," and "my friends" a Facebook spokesperson told the L.A. Times in an email.
I'm surprised "scared" didn't make it on the list. That one has been showing up on my Facebook news feed all day.
Major weather events come with a certain kind of cozy pleasure -- in the beginning at least; getting out the flashlights and candles before the power goes out, settling down in front of the television with a cozy blanket for a movie marathon, obsessing over what food would be the most comforting to eat.
Click headline to read more--
Via
Chuck Sherwood, Senior Associate, TeleDimensions, Inc