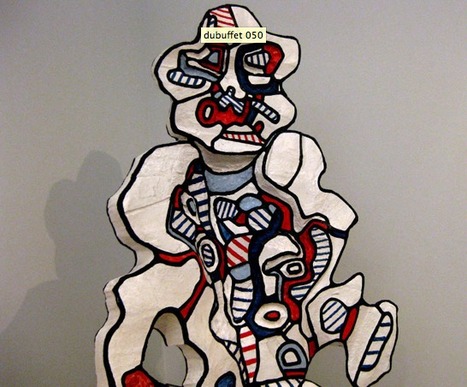 A Jean Dubuffet exhibit in the United Kingdom reveals why the art-brut-inspired artist is still extremely relevant today.
"In my opinion," wrote the painter in notes for a 1960 television interview, "Each generation should dump the art of the preceding generations on the scrap heap and produce their own art, which will likewise be dumped by the following generation."
But Dubuffet was not even a particular fan of his contemporaries. In 1945 he began to seek out work from beyond the art world, and soon built up a collection of work from the margins of western society, largely from asylums. He coined the term "art brut" or "raw art," and referred to its creators as authors rather than artists. Artists, he felt at the time, were too much tainted by education and the framework of the art world.
"He had the right idea, his principles, as to why he was collecting Art Brut, the value of those people and their artwork. He was completely honest," she was quick to point out.
So what Dubuffet took from marginalized creators was a spirit of freedom rather than any technical tricks or ideas. The French artist worked in a prolific range of styles, all of them more or less his own. He worked with sand, earth, and tarmac on his canvases long before Neo-Expressionism. He includes comic, crude figures long before the street-derived styles of, say, Jean-Michel Basquiat or Keith Haring. And he was even doing collage with butterfly wings from 1953, long before Damien Hirst in the mid-1990s.
As a result, Dubuffet deserves to be more frequently exhibited in the UK. The current show at Pallant is timely and focussed but, despite his attitudes to the art world and the past, you wonder why this painter and thinker hasn't yet been given a posthumous blockbuster here. After all, write Valérie Da Costa and Fabrice Hergott in their 2006 book on the artist: "Dubuffet belongs to a very small group of those few major artists, such as Duchamp, Picasso, Mondrian, and Beuys, whose works have profoundly modified our vision of art."