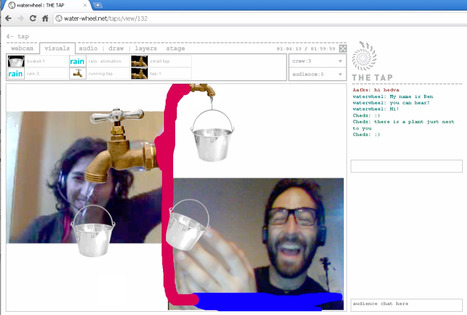 this is a 5 minute video document of the installation performance shown in Dec11 at the Judith Wright Centre with Anna Yen performing in Brisbane and 5 online crew in UK, Serbia, Tunisia and the Netherlands.
Triggering actions, audience are called 'activists':

- activating the weather machine: by pedalling on the bicycle, they were making a tornado in a tea chest and a light rain falling into bowls which were producing a soundscape
- performing, interacting, discussing on the Tap, one on one with performers in other countries
- exchanging thoughts about recycling water, managing drought and flood, life style change which came out of water restrictions, water situations in different countries
thought provoked by 1minute excerpts of media they selected from the Waterwheel Media Centre
- making a wish for water, and later on, a silent pledge
People experience collaborative participation, individual thought, fun, entertainment, information, and a sharing of knowledge and experience. They can appreciate how each person can trigger a cycle – how individual actions, community practises, and ways of life are part of an integrated system, one affecting the others in negative or positive ways.
Please comment....suggestion, ideas, actions are welcome....
cheers Suzon