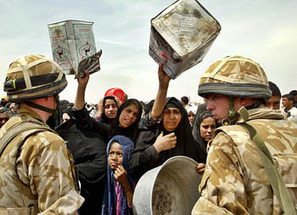 As in the case with oil, the Middle East and North Africa is likely to see the most drastic conflicts in coming decades because of water shortages.

The Jordian River Basin serves several countries including, Israel, Syria, and Lebanon. Israel, as it currently stands has conflict with its surrounding neighbors. This could be heightened if places like Jordan and the Palestinians in the West Bank increase their water usage from below average to just average.

The Tigris Euphrates river basin has been a source of conflict between Syria, Iraq, and Turkey for decades. Ethnic Kurds in northern Iraq and southern Turkey, although not heavily dependant on the rivers for water consumption, plan to divert some of its water for irrigation reasons. This could reduce the amount of water heading south to drier parts of Iraq. Kurds, lacking a nation state, may begin to see increased repression of its people, the like of which could replicate Saddam Husseins attempt to eradicate the Kurds from Iraq post Persian Gulf war.

In Asia, large populations ranging from India to China, Bangladesh to Pakistan has created conflict among the borders. Although not lacking water, these countries are having a hard time regulating it to drier or arid parts of the countries they maintain. As the populations grow so does the demand to control more access to fresh water.