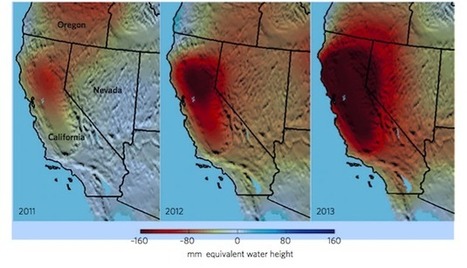 Not only that, but the same thing is happening in China, India, and the Middle East—and climate change is making it worse.
The maps come from a new paper in Nature Climate Change by NASA water scientist James Famiglietti. "California's Sacramento and San Joaquin river basins have lost roughly 15 cubic kilometers of total water per year since 2011," he writes. That's "more water than all 38 million Californians use for domestic and municipal supplies annually—over half of which is due to groundwater pumping in the Central Valley."
Famiglietti uses satellite data to measure how much water people are sucking out of the globe's aquifers, and summarized his research in his new paper.
The lesson Famiglietti draws from satellite data is chilling: "Groundwater is being pumped at far greater rates than it can be naturally replenished, so that many of the largest aquifers on most continents are being mined, their precious contents never to be returned."
The Central Valley boasts some of the globe's fastest-depleting aquifers—but by no means the fastest overall. Indeed, it has a rival here in the United States. The below graphic represents depletion rates at some of the globe's largest aquifers, nearly all of which Famiglietti notes, "underlie the world's great agricultural regions and are primarily responsible for their high productivity."