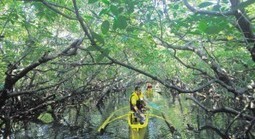 As sunlight faded that late afternoon, Zaldy Casidsid dipped his paddle again into the brackish waters of the mangrove forest in Barangay (village) Tigbao in Aroroy town, Masbate province.
Virgilio Natural Jr. of the Department of Environment and Natural Resources (DENR) Integrated Coastal Resource Management Project (ICRMP), said Buklod had been tasked by the government with guarding and conserving the mangrove in preparation for its declaration as a marine sanctuary in 2015.
Casidsid said he and his fellow members took up the challenge before they were formally registered as an association in 2011.
The DENR and the Bureau of Fisheries and Aquatic Resources (BFAR) provided the group with assistance worth more than P380,000 to buy high-grade life vests, small boats for paddling through the tunnel of mangroves and two bigger ones, and to build a tree house, complete with kitchen, which the members use as a gathering place and reception area for tourists and visitors.
After pledging to protect the ancient trees, Buklod members refrained from using nails and concrete on the bamboo walks that weave through tree branches. "We do not want to hurt these trees," Casidsid said.
The place used to be the habitat of alligators, many bird species and mudskippers before some farmers began cutting the trees to make charcoal. Casidsid used to be one of them before he became aware of the importance of mangroves during a DENR campaign.
In Matalangtalang, Erlito Tupas heads the Sama-Sama Fisherfolk Association, a group tasked by the DENR-ICRMP with safeguarding the 37-hectare Matalangtalang Marine Sanctuary from illegal fishers. Tupas and the 57 members of his group take turns in inspecting the boundaries to discourage fishermen from fishing there.