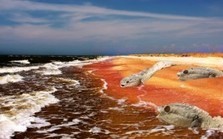 Dead sea life covers about 1 percent of the ocean floor off the CA coast. Now, it seems to be covering about 98 percent after Fukushima.
Throughout the study and the National Geographic coverage of it, climate change is blamed. Never mind the fact that the astronomical increase in sea snot occurred in conjunction with the Fukushima nuclear disaster—they don't even bother to mention that.
The Fukushima Daiichi nuclear disaster occurred when an earthquake and subsequent tsunami hit the area on March 11, 2011. To this day, the amount of damage is unclear as the Japanese government along with TEPCO (the power company that owns the nuclear power plant) seem to be content to hide the truth.
Measurements taken in March 2012 show sea snot levels to be at about 1%. Just a few months later, they had grown to 98%.