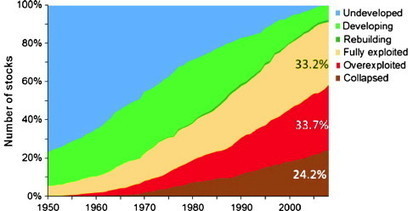 How badly are we overfishing the ocean? Washington Post (blog) The pessimistic view, famously expressed by fisheries expert Daniel Pauly, is that we may be facing "The End of Fish." One especially dire 2006 study in Science warned that many...
"Several deeper analyses of the status of the majority of world fisheries confirm the previous dismal picture," they conclude. "Serious depletions are the norm world-wide, management quality is poor, catch per effort is still declining."
So, in their paper, Pitcher and Cheung review a number of recent studies that use indirect measurements instead. For example, they note that recent analyses of fish catches suggest that about 58 percent of the world's fish stocks have now collapsed or are overexploited:
"Given the increase in global fishing effort, the lack of increase in global fisheries catch in the last decade and the fact that most productive areas have now been exploited by fisheries," Pitcher and Cheung note, it's quite possible that "global exploited fish stocks are likely to be in a decreasing trend."
"It all depends where you look," Pitcher said in an interview. "There are a few places where fisheries are doing better: The U.S., Australia, Canada, Norway. But those are relatively rare. In most places, the evidence suggests that things are getting worse." Given that the United States imports 91 percent of its seafood, that's an important caveat.