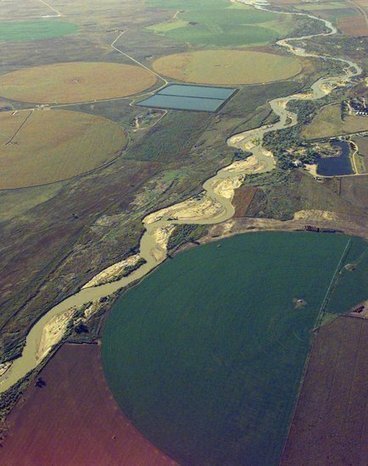 Kansas City Star The Ogallala Aquifer, an important water resource, is in trouble Kansas City Star The life of the Ogallala Aquifer could be extended several decades, but only if water usage is reduced, a four-year study by researchers from Kansas...
The aquifer yields 30 percent of the nation's irrigated groundwater, the study said. It could last until 2110 or longer if farmers were to cut 20 percent of their usage or more beginning now. But that would reduce agriculture production to the levels of 15 or 20 years ago.
The study was done because there are a lot of questions about "how long can we pump and how long it will take to recharge the aquifer if depleted," Steward said.
At the current rate, the aquifer will be 70 percent depleted by 2060, according to the study.
Kansas in recent years has begun trying to come up with ways to keep the lake recharging at a rate that doesn't allow the resource to dry up.