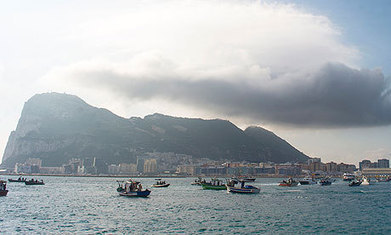 Gibraltar row: Spain 'misinformed' over artificial reef
The Guardian
In a column in the Wall Street Journal García-Margallo also wrote: "The dumping of concrete blocks constitutes a violation of the most basic rules of environmental conservation.
Spain's demands that Gibraltar dismantles the artificial reef at the centre of a diplomatic spat with Britain have been dismissed as "misinformed" by the reef's creator after it emerged that there have been no complaints made about it in over 30 years, its construction mostly benefits the Spanish fishing industry and Spain has received millions of euros from the EU to create similar reefs of its own.
"There was just sand before and no life. So we tried to provide an oasis by dropping old boats there. It is now a fish nursery. Bream and, in season, tuna spawn there, as well as invertebrates. It's like we have put in a block of flats and [marine life] has moved in. The reef has no intention beyond conservation."
The artificial reef, which has been extended to stretch much of the way around the tiny territory, was the first to be constructed in Europe and is now one of Europe's biggest. It is made of over 30 scuttled vessels and wrecks, including old boats, gravel barges, and floating platforms. It is extended when funds are available or old boats are donated to conservation charity The Helping Hand, which dropped the concrete blocks earlier this year.