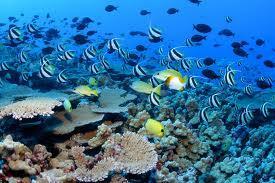 Submarine springs reveal how coral reefs respond to ocean acidification environmentalresearchweb Ocean acidification due to rising carbon dioxide levels will reduce the density of coral skeletons, making coral reefs more vulnerable to disruption...
The study, led by researchers at the University of California, Santa Cruz, and published in the Proceedings of the National Academy of Sciences (PNAS), is the first to show that corals are not able to fully acclimate to low pH conditions in nature.
"People have seen similar effects in laboratory experiments," said coauthor Adina Paytan, a research scientist in the Institute of Marine Sciences at UC Santa Cruz. "We looked in places where the corals are exposed to low pH for their entire life span. The good news is that they don't just die. They are able to grow and calcify, but they are not producing robust structures."