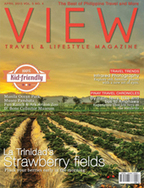 The project involves the construction of a combination of iron removal filter, water tank, spring box, biogas digester and bio-sand filters, primarily to address the water needs of people, and apply biogas technology to complement a backyard swine raising livelihood project in certain areas.
A total of 54 facilities were constructed under the project, which also served as on-the-job training for 23 fabricator-trainees or para-engineers who are now service providers for CPWASH projects in other areas.
The spring box and water tank harnesses spring water from source. The water is then distributed to communities where people will fetch them with ease and for now, since the project was completed, at no cost to residents, because the CPWASH facilities are being maintained by community-based organizations, with subsidy from the Kapangan-LGU.
Another major component of the project—the biogas digester—allows farmers to produce biogas that complements the swine-raising livelihood project in selected areas.