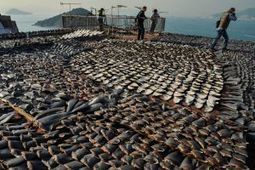 Will lovers of the deluxe Chinese dish eat shark species into extinction?
But the anti-finning camp is buoyed by a slew of major victories. Basketball star Yao Ming, celebrity royalty in China, has publicly urged China's government to ban shark fin consumption. Last year, China's Communist Party vowed to phase out shark fin soup from official functions. Taiwan, the fourth-largest shark fin market, has legally forbidden fishermen from sawing off shark fins and dumping the carcass overboard. The same rule applies to boatmen in EuropeanUnion waters.
The latest research into endangered shark populations, recently published in the journal Marine Policy, contends that a whopping 100 million, and perhaps up to 273 million, are killed each year. At this clip, several sought-after species — the scalloped hammerhead, the porbeagle and the oceanic whitetip — may not be able to reproduce fast enough to stave off extinction.