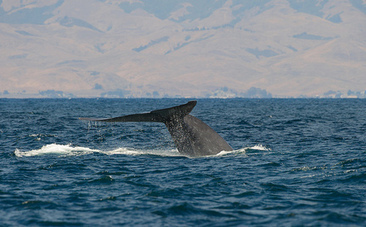 Whales off the coast of California can now swim a bit easier.
The route adjustments were recommended by the US Coast Guard and the NOOA following a series of whale deaths along the California coast by confirmed or likely ship strikes over the past six years. In 2007, four blue whales were killed in the Santa Barbara channel. In 2010, two blue, one humpback and two fins were killed in the San Francisco area and elsewhere along the north-central California coast. All three species are endangered. There are believed to be about 2,000 blue whales, 2,000 fin whales and 2,500 humpbacks in the northeast Pacific.
No one knows exactly why whales are so vulnerable to ship strikes. These sentient beings, among the largest animals on the planet (blue whales being the largest), are extremely graceful and highly agile in water — which leaves scientists puzzled as to why they cannot avoid ships. It is hypothesized that they become disoriented by the sound generated by engines, while others suspect that the high speeds of the ships make it difficult for the relatively slower-moving whales to avoid them.