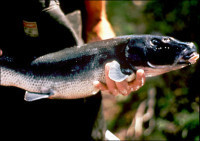 Press-EnterpriseEnvironmentalists Score Win To Protect Endangered FishPatch.comA federal lawsuit filed by a dozen Inland Empire water agencies challenging the Obama administration's decision to expand the habitat for an endangered fish species was...
According to a study by the Moreland, Idaho-based Western Legacy Alliance, which promotes private property rights, the Center for Biological Diversity filed more than 400 species protection-related lawsuits between 2001 and 2009.
A Wildlife Service spokeswoman said the critical habitat designation will not hinder agencies from drawing water from the Santa Ana or other areas where the sucker spawns; rather, the designation provides an "additional layer of review" before developers or municipalities can proceed with making any changes along channels recognized as critical to a threatened species.