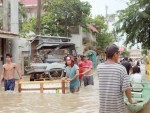 A resident in flood-hit Barangay Dela Paz in Biñan City wants to remind politicians of the dire condition of his village since the August monsoon rains.
Still in Biñan, the subdivisions of San Isidro, Almeda, Kapitana Maria, Casas, Victoria, Dimaranan, and Yatco are flooded. In Laguna, thousands have remained in evacuation centers.
Laguna Lake Development Authority hydrologist, Emil Hernandez, on Sunday said the lakewater level was at 13.25 meters. The normal level is 12.5 m from September to December. ...
Ondoy dumped a huge amount of rain that resulted in massive flooding for around six months. The national government has come up with several solutions to the swollen Laguna de Bay, including an P18-billion dredging project which the President shelved due to reports of corruption.