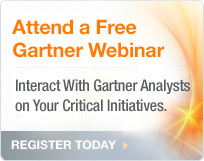 STAMFORD, Conn., October 10, 2012—

What: Gartner Identity & Access Management Summit

When: December 3-5, 2012

Where: Caesars Palace, Las Vegas
Details: Identity and access management is at an inflection point. Enterprises must accommodate major changes in IAM product/service purchasing, staffing and organizational changes, and process re-engineering to realize business value. IAM is too expensive to continue to be treated as an infrastructure add-on or a necessary evil.