Scoop.it!
Political correctness is National suicide.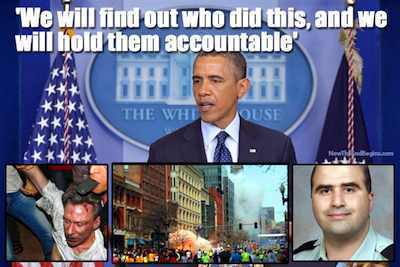 littlebytesnews's insight:
When I first heard Glenn Beck talk about a third terrorist or some other conspiracy theory I thought he was going Alex Jones, but since more information has come out anything is possible, but I still don't believe the US government planned the attack as some have said.
I do believe another Obama coverup operation is in progress, just like they did with Benghazi and Fast and Furious. They are known to coverup up their errors or intentional lack of efficiency in foiling terrorist plots and providing proper security or follow through.
In the Benghazi case the State Dept under Hillary failed to provide proper security as requested by Ambassador Stevens, which eventually resulted in him and three others being killed during a terorrist attack on September 11, 2012.
Then the Boston Bombing attack occurred last week on April 15, 2013, which left three dead and dozens maimed for life and left to live with amputations and other trauma. In adidition to killing three, up to 170 more who suffered trauma and mental anguish as well as minor injuries after this fifth terrorist attack under Obama's watch.
The attack in Boston was the first of it's kind since 9/11, if you don't count the Ft. Hood attack as a terror attack, which also occurred under Obama's watch in 2010. Unfortunately the Obama admin classified that case as "workplace violence'' rather than recgonize it for what it was, an Islamic terror attack by a jihadist who waged war against Americans on US soil, on an American military base!
Prior to Ft. Hood there was an attack on a military recruiting office in Little Rock, Arkansas, which was done by another American who converted to Islam, who was brainwashed after attending a mosque in Tennessee. Many of these 'lone wolf' jihadists are often converted in US mosques and/or online through jihadist propaganda, such as the material put out by Al Alwaki, the American terrorist who moved to Yemen and eventually the Obama admin killed using CIA drones in Pakistan. This was a controversial issue at the time, but it was justified by the White House since it happened on foreign soil and Al Alwaki was already on the terror watch list and identified as a radical Islamic terrorist who made propaganda online to convert and inspire other potential jihadists, and Muslim converts, like Nidal Hasan and Tamerlan. Al Aqaeda also publishes an online magazine called "Inspire" which is sad to have influenced the Boston bombers and may have been used as training materials on how to make a pressure cooker bomb.
WSJ:
Tamerlan Tsarnaev is the fifth person since 9/11 who has participated in terror attacks after questioning by the FBI [emphasis added]. He was preceded by Nidal Hasan; drone casualty Anwar al Awlaki; Abdulhakim Mujahid Muhammad (born Carlos Leon Bledsoe), who murdered an Army recruit in Little Rock in June 2009; and David Coleman Headley, who provided intelligence to the perpetrators of the Mumbai massacre in 2008. That doesn't count Abdulmutallab, who was the subject of warnings to the CIA that he was a potential terrorist.
Since 9-11, 5 Terror Plots Reached Their Targets--ALL Under You!
http://www.youtube.com/watch?feature=player_embedded&v=bjnDFcJVaOg 
However, as this Congressman from Arkansas points out, zero attacks reached the US under GWB, following 9/11/01 and after the FBI/CIA became aware of any potential threats. Why have terrorists succeeded five times to reach the US under Obama's leadership?
I think I have the answer: Obama's appeasement, apologetic and politically correct campaign to protect Islam and Muslims from any 'slander' or criticism:
http://patdollard.com/2013/04/obamas-scrub-of-muslim-terms-under-question-common-links-in-terrorist-attacks/
Before the Boston Marathon bombings, the Obama administration argued for years that there is a big difference between terrorists and the tenets of Islam.
A senior White House aide in 2009 publicly urged Washington to cease using the term "jihadist" — asserting that terrorists are simply extremists. Two years later, the White House ordered a cleansing of training materials that Islamic groups deemed offensive.
Now, some analysts are asking whether the 2009 edict and others that followed have dampened law enforcement's appetite to thoroughly investigate terrorism suspects for fear of offending higher-ups or the American Muslim lobby.
It is not just the case of Tamerlan Tsarnaev, a radicalized jihadist whom the FBI questioned in 2011 and cleared of terrorism links. At least five Muslims have attempted mass destruction in the U.S. since 2009, undetected beforehand by law enforcement and the intelligence community:
• Abdulhakim Mujahid Muhammad opened fire at a military recruiting office in Little Rock, Ark., in June 2009, killing one soldier.
• Najibullah Zazi, who said he was a member of al Qaeda, tried to detonate bombs in New York City's subway in September 2009.
• Army Maj. Nadal Malik Hassan opened fire at a soldier processing center at Fort Hood, Texas, killing 13.
• Umar Farouk Abdulmutallab tried to explode a bomb hidden in his underwear onboard a flight to Detroit in December 2009.
• Faisal Shahzad attempted to detonate a car bomb in Times Square in May 2010.


Steven Emerson runs the Investigative Project on Terrorism, which monitors a network of Islamic groups with ties to the Muslim Brotherhood, whose stated goal is to impose Shariah, or Islamic law, on the world.
"Numerous experts on Islamic terrorism like myself and I had given 143 lectures at the FBI, CIA were banned from speaking to any U.S. government counterterrorism conferences," Mr. Emerson told The Washington Times. "Instead, these agencies were ordered to invite Muslim Brotherhoodfront groups."
Islamic backlash
In October 2011, 57 Islamic groups wrote a letter to John O. Brennan, now CIA director, but then President Obama's chief counterterrorism adviser.
Citing news reports, the groups complained of "biased, false and highly offensive training materials about Muslims and Islam" inside the federal government's instructional halls.
"While recent news reports have highlighted the FBI's use of biased experts and training materials, we have learned that this problem extends far beyond the FBI and has infected other government agencies, including the U.S. Attorney's Anti-Terrorism Advisory Councils, the U.S. Department of Homeland Security, and the U.S. Army," the letter read.
Muslims objected to several training guides, such as a 2009 report produced at the Army Command and General Staff at the Fort Leavenworth School of Advanced Military Studies.
"Moderate Muslims are not exercising moderation; they are simply applying other means to accomplish the same goal of establishing global Islamic dominance," it quoted the report as saying.
At least two of the 57 groups were listed by the Justice Department as unindicted co-conspirators and as being connected to the Muslim Brotherhood in the prosecution of a Texas charity for funding Hamas, a U.S.-designated terrorist organization. The groups are the Council on American Islamic Relations (CAIR) and the Islamic Society of North America.
The organizations' letter demanded that biased trainers be disciplined, that all instructors undergo retraining and that materials deemed offensive by Muslim activists be purged.
The White House issued an edict to scrub all law enforcement, intelligence and military teachings on Islam. The FBI ended up discarding pages of information that warned about the threat from the Brotherhood.
John Guandolo, a former FBI counterterrorism agent, has spent years studying the global Muslim Brotherhood movement and its links to American Islamic groups. The FBI relies on some of them to guide its training. The political left has branded Mr. Guandolo an "Islamophobe."
"There is no strategy in the FBI," he told The Times. "At FBI headquarters, it is a daily fire drill. The threats come in, and they run around to deal with them and run them down. But because none of it can have anything to do with the Muslim Brotherhood's movement in the U.S. or Islam, they never address the root cause and common investigative realities."
Mr. Emerson, who maintains back-channel ties to law enforcement, said any slide presentation on Islamic extremism now has to be submitted to a special Justice Department panel.
He said one slide that was required to be omitted showed the famous photo of captured Sept. 11 mastermind Khalid Shaikh Mohammed. The photo of a disheveled and unshaven Mohammed was deemed "offensive to Islam," Mr. Emerson said.
Political correctness
Perhaps the best-known casualty of the White House order is Army Lt. Col. Matthew Dooley, a decorated officer who taught at the Joint Forces Staff College in Norfolk, Va. After learning of Col. Dooley's course and its "outside the box" scenario of nuclear war, Army Gen. Martin E. Dempsey, the Joint Chiefs chairman, launched investigations that ended with the officer's firing.
A briefing by Col. Dooley, whose course "Perspectives on Islam and Islamic Radicals" had been approved by his supervisors, discussed how "political correctness" prevents the military from talking about radical Islam.
"Political Correctness is killing us: How can we properly identify the enemy, analyze his weaknesses, and defeat him, if we are NEVER permitted to examine him from the most basic doctrinal level?" the briefing read.
Early in Mr. Obama's first term, Mr. Brennan set the tone for a softer line on Islam and its links to terrorism.
In August 2009, he went to the Center for Strategic and International Studies in Washington to talk on the theme "A New Approach to Safeguarding Americans."
He said the president does not "see this challenge as a fight against 'jihadists.' Describing terrorists in this way — using a legitimate term, jihad, meaning to purify oneself or to wage a holy struggle for a moral goal — risks giving these murderers the religious legitimacy they desperately seek but in no way deserve."
Some analysts disagree with that interpretation, saying the Koran clearly states that jihad is a "holy war."
Mr. Brennan and other aides preferred the title "violent extremists" over Islamic terrorists.
"My problem with this administration is they refuse to acknowledge the existence of this kind of terrorism," Mr. Rubio said.
He noted that after the Sept. 11 terrorist attack on the U.S. diplomatic complex in Benghazi, Libya, the White House refused to call it terrorism and blamed it on everyday demonstrators.
"And even now, irrespective of whether [the Tsarnaev brothers] met with extremists or not when they went to Russia, the bottom line is they were radicalized and they carried out an attack because of that ideology," Mr. Rubio said. "This is the emerging face of terrorism against the United States by radical Islamists, and we have to have security systems that recognize that and can deal with that because the No. 1 job of the federal government is to secure our national security."
Read more:
http://www.washingtontimes.com/news/2013/apr/25/obamas-cleansing-of-islamic-terms-suppresses-commo/?utm_source=RSS_Feed&utm_medium=RSS
In the end...Political Correctness is National Suicde!!
We must stop any immigration reform/amnesty bill from passing or we will have more of these ingrates living in our country. We must identify and deport the criminal ones who are here, especially those from Islamic countries or Islamic converts and those who practice Islam. Islam is more like a cult, than a religion, but it is also more a political ideology like Nazism than a religion. The US must denounce Islam and not recognize it as a religion with protections under the first amendment.

We must start closing down mosques and deporting all Islamists. Call it bigotry or whatever names liberals want to call it, ie: "Islamophobia'' but they have lost the respect of Americans and deserve no rights in the US.

The focus should be on the economy right now, not legalizing more illegal immigrants and importing more intolerance into our country, not to mention more welfare recipients and Democrat voters. We don't need any more cultural diversity, we have enough. We are losing our borders, language and culture, as Savage says, and we are committing national suicide by pandering to Islam and other minorities and Obama is using political correctness to destroy us.

After all, he not only said he would stand with the Muslims should the political winds shift, but after Benghazi he said "the future must not belong to those who slander the prophet of Islam". He fails to mention that the founder of Islam is a pedophile prophet and the fact that Islamists are the cause of global persecution of Christians, Jews and apostates for centuries long before the US was ever in Iraq or Afghanistan and long before they attacked us on 9/11 Thomas Jefferson had to fight them and stop paying a jizya tax to them to ship goods into the US. http://www.usvetdsp.com/jan07/jeff_quran.htm