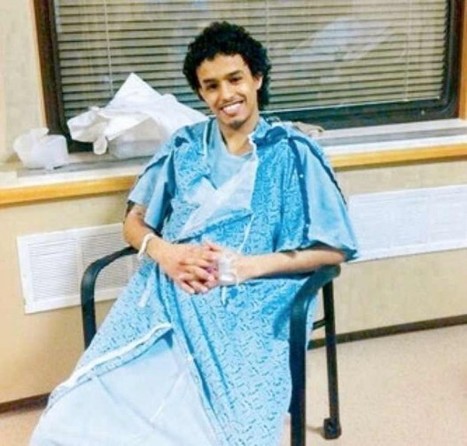 UPDATE 4:10 — Immigrations and Customs Enforcement responded to TheBlaze's report on Al Alharbi, calling it "categorically false. Read the update here.
http://www.theblaze.com/stories/2013/04/18/ice-official-responds-to-blaze-report-categorically-false/ 
–

Editor's note: Please see the Editors' UPDATES we will be placing in order of most-recent below. TheBlaze's Jonathon M. Seidl contributed to this report.


–

Key points:

On Sean Hannity's Fox News program Wednesday night, terror expert Steve Emerson cited sources saying Abdul Rahman Ali Alharbi, the Saudi national who was briefly named a "person of interest" in the Boston Marathon bombings, is being deported on Tuesday.Thursday morning, Glenn Beck revealed on radio that TheBlaze was informed by sources that the Saudi national's visa had been revoked and he was, in fact, going to be deported on "security and related grounds."Among other things, sources told TheBlaze that the Saudi national had ties to a well-connected Saudi family and that his deportation was set to be framed as a "voluntary" departure to be with his family.A file, called an "event," was started on him three days ago.While discussing the issue on radio, TheBlaze's Chief Content Officer Joel Cheatwood revealed that the government is now considering not deporting Ali Alharbi.

UPDATE VI (12:50 pm ET):

Homeland Security Secretary Janet Napolitano had a fiery exchange with Rep. Jeff Duncan during a House hearing Thursday morning over reports that Al Alharbi is being considered for deportation.

Napolitano refused to entertain a question regarding if it would be "negligence" to deport someone who just days ago was a person of interest.
"I'm not going to answer that question," she shot back after being pressed by Duncan and denying any knowledge of such a plan. "That question is so full with misstatements and misapprehensions that it is not worthy of an answer."
Watch her response and read her other fiery comments in our full write-up here. http://www.theblaze.com/stories/2013/04/18/janet-napolitano-responds-to-report-of-deportation-for-former-person-of-interest-not-worthy-of-an-answer/ 
UPDATE V (12:13 pm ET):
Sen. Rand Paul reacted to TheBlaze's report during a radio interview with Glenn Beck by saying he will be "looking into" the report. He also added that in general the United States needs to "have more scrutiny on these students when they arrive."
Read the full report here. http://www.theblaze.com/stories/2013/04/18/rand-paul-on-saudi-national-reports-well-definitely-look-into-it/ 
UPDATE IV:
You can watch Glenn Beck break the news on radio below:
UPDATE III (10:50 am ET):
TheBlaze Chief Content Officer Joel Cheatwood reported on "The Glenn Beck Program" Thursday morning that TheBlaze has been informed that the government is now considering not deporting Abdul Rahman Ali Alharbi.
"Just got a note from one of our investigative reporters that she has been told that there is now discussion that they may not allow this man to be deported," Cheatwood said.
UPDATE II
Click headline for more...