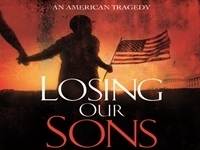 In 2009, Carlos Bledsoe, a Bible Belt Christian converted to Islam and murdered Andy Long, a U.S. Army soldier, in Little Rock. The U.S. Government refused – and still refuses – to call it terror.
The Justice Department refused to bring any Federal charges against him. The murder was prosecuted in Arkansas state court as a simple drive-by shooting. The Defense Department has refused to give Andy Long a Purple Heart, which would signal that he died by the hands of an enemy combatant in a hostile act on a uniformed military man. The victims of the Fort Hood shooting are likewise denied recognition with a Purple Heart.
"Losing Our Sons" traces the stories of Andy and Carlos's fathers, Daris Long and Melvin Bledsoe, as they try to tell the American people the truth of what happened to their sons. Audiences fume at scenes of Obama Administration officials denying in their testimony to Congress that Islamic extremism is at war with the United States. Melvin's testimony about losing his son to a radical ideology is dismissed by certain Congressmen as "an anecdote."
The documentary, "Losing Our Sons," will be the focus of a special webcast program on October 18th at 8PM EDT and can be viewed at the end of this article.Here is the trailer: http://www.ustream.tv/recorded/26230227
LBN:
Since Obama's election in 2008, Obama and his administration have actively participated in a coverup and denial of terrorism in America and against Americans. In Cairo he said we are not at war with Islam, yet he denies to accept the fact that Islamists are at war with us!
In Obama's book, DREAMS OF MY FATHER Obama wrote: "I ceased to advertise my mothers race at the age of 12 or 13, when I began to suspect that by doing so I was ingratiating myself to whites. ... I will stand with the Muslims should the political winds shift in an ugly direction."
It makes you wonder why and which side this administration is on when you consider the history of terrorism cover-ups they have been involved in. Since Obama took office, there have been an increase in the number of terror attacks from the 'underwear bomber' to yesterdays arrest of another Muslim jihadist who attempted to blow up the US Federal Reserve Bank in NYC. In total, according to CNN, there have been at least seven terrorist attempts in the US since 9/11/2001: http://www.cnn.com/2012/10/18/justice/terror-cases/index.html
However, this doesn't count the ones swept under the Obama rug like the killing of Andy Long in Arkansas and the Ft. Hood massacre.http://youtu.be/dwoo_ZnQqa8
In total there have been 12 domestic 'terrorist' attacks since 2009 http://www.johnstonsarchive.net/terrorism/obamaonterrorism1.html, five which were not related to Islamist terrorism but abortion or white supremacists.
Thankfully the underwear bomber was unsuccessful because the bomb failed, but he was not caught by security, despite all the new terror screening laws in place. Then there was the bomb plot in Oregon during a Christmas parade that was foiled and this incident in Arkansas where a uniformed soldier was killed outside a recruiting center in Arkansas. There was the Ft. Hood attack on US soil, the largest attack on US soil against our own military, which killed 13 Americans and one unborn child. Yet the Obama administration, as outlined in this article by Breitbart News explains, continues to deny was terrorism, but labeled it an act of 'work place violence' and the Arkansas shooting as a 'drive buy shooting' refusing to press Federal terrorism charges.
Nidal Hasan is still awaiting trial in TX for the slaughter of 13 Americans at Ft. Hood and that case has been held up due to appeasement and pandering to the terrorist over whether he has the right to shave his beard or not! He's still getting over $6000/month from the military, US tax dollars, therefore he should be required to follow the military code for personal grooming and be required to shave his beard and keep his hair trim as other soldiers must do. Why he's been allowed to manipulate the system is ridiculous. In addition, the only reason he got away with the attack was due to military pandering and appeasement to Muslims in fear of being labeled Islamophobes or upsetting the Muslims in the Middle East who already hate us.
Then you have the recent Libya attack on a US consulate which killed the US Ambassador and three other Americans after the state department is found to have denied additional security requests. The Obama administration immediately started blaming some unseen video on Youtube that mocked Mohammed, rather than defending free speech and putting the blame on Islamic terrorism. It is now clear that it was a planned attack by members affiliated with Al Qaeda and the video was irrelavant to the Libya attack in Benghazi. There are conflicting reports on who the leader of this attack was, as I wrote about yesterday here...
Libya Said to Single Out Islamist as Commander in Benghazi Attack;US Named Someone Else http://sco.lt/8Idr7Z
If this pandering, appeasement and denial of terrorism continues our entire country is at risk. We must be able to identify our enemies and convict them as terrorists under Federal law and use military prosecution when necessary. Instead, the Obama administration does not want to use the word terrorism or Islamist terrorism or any term identifying those of Muslim decent and followers of Islam as having a relation to terrorism against the US.
Since Obama has taken office, his administration including those in the Pentagon have insisted on removing any training or reference to Islam and terrorism.
Muslim Influence in Pentagon Prevails; Material on Radical Islam "Purged," Outstanding Army Officer "Disciplined,"https://plus.google.com/u/0/103087425533147519173/posts/KuzsX9AiCGh
In addition, decorated military heroes have been suspended and charged with Islamophobia for teaching about Islam, jihad and terrorism!
Decorated LTC Matthew Dooley Fights Back After He Was Suspended Over Muslim Groups' Complaints on Islam Course... http://sco.lt/9N6GDB
Related:
The Dangers to Our Military&Country-The Enemy Within https://plus.google.com/u/0/103087425533147519173/posts/4MpFXhLipZ3
Congress Members Funded By CAIR&Influenced By The Muslim Brotherhood
https://plus.google.com/u/0/103087425533147519173/posts/CaEGRTxAZB5
MUST WATCH:The Muslim Brotherhood and US Policy-A Threat To America
https://plus.google.com/u/0/103087425533147519173/posts/SqKyYQmHxei
Feeling Safe Yet?A Summary of Dangers to Our Military&Country
https://plus.google.com/u/0/103087425533147519173/posts/NR1M8dU8Aa5
Accused Fort Hood shooter makes first statement in court, saying he is required to wear a beard - http://t.co/MGav7muM
<who cares what he says;he didn't wear one when he killed those 13 people;shave him!! Delayed justice is an injustice!!
Obama's Ring Says What?
https://plus.google.com/u/0/103087425533147519173/posts/YTa95Mh3RSN
Questions raised over feds' consistency on 'terrorism' definition in wake of shootings
https://plus.google.com/u/0/103087425533147519173/posts/Z7ee85qhxBN
Military Under Attack from Within??
https://plus.google.com/u/0/103087425533147519173/posts/Bj5PuKeLJjA
Obama's anti-military legacy
https://plus.google.com/u/0/103087425533147519173/posts/8YBUMiN8TcG
Obama Adds Military Heroes to 'Enemies List'
https://plus.google.com/u/0/103087425533147519173/posts/gJMVzyDFmxj
Romney Must Stand Up to The Threat of Marxism and Islam to America
https://plus.google.com/u/0/103087425533147519173/posts/9woNnoJHdDd
Political Correctness Is a Threat To National Security
https://plus.google.com/u/0/103087425533147519173/posts/hZkg82RkZvF
Pentagon Islamic Adviser Reappears as Political Leader for Syrian Muslim Brotherhood-Dominated Group
https://plus.google.com/u/0/103087425533147519173/posts/2X3bdp2PgvP
Obama's Rules of Engagement Endangering our Law Enforcement and Military
https://plus.google.com/u/0/103087425533147519173/posts/2EsxDrhNNYH
State Department refuses to explain why member of jihad terror group visited White House
https://plus.google.com/u/0/103087425533147519173/posts/QKggZeHBtgT
Like Fast&Furious, the US aided the 'rebels' with weapons and now after our meddling four Americans were killed
https://plus.google.com/u/0/103087425533147519173/posts/4rtFkkcs2vC