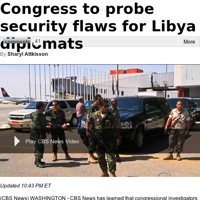 #Obama #Romney #PaulRyan #foreignpolicy #fail #Libya #Benghazi #terrorists #jihad #islam...
Lt. Col. Wood has told CBS News and congressional investigators that his 16-member team and a six-member State Department elite force called a Mobile Security Deployment team left Libya in August, just one month before the Benghazi assault. Wood says that's despite the fact that US officials in Libya wanted security increased, not decreased.
Wood says he met daily with Stevens and that security was a constant challenge. There were 13 threats or attacks on western diplomats and officials in Libya in the six months leading up to the September 11 attack.
Wood, whose team arrived in February, says he and fellow security officials were very worried about the chaos on the ground. He says they tried to communicate the danger to State Department officials in Washington, D.C., but that the officials denied requests to enhance security.
"We tried to illustrate...to show them how dangerous and how volatile and just unpredictable that whole environment was over there. So to decrease security in the face of that really is... it's just unbelievable," Wood said.
Sources critical of what they view as a security drawdown say three Mobile Security Deployment teams left Libya between February and August in addition to the 16-member Site Security Team on loan from the military. That's 34 highly-trained security personnel moved out over a six month period.
One State Department source told CBS News the security teams weren't "pulled," that their mission was simply over.