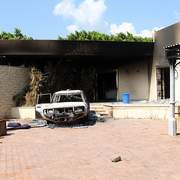 Investigators finally reach the US mission in Benghazi where the ambassador and three other Americans were killed last month.
A team of US investigators has visited Libya's second city of Benghazi to examine the site where Ambassador Chris Stevens and three other Americans were killed in an attack last month.
"An American investigative committee visited the site where the US ambassador was killed," a defence ministry official in Benghazi told AFP, confirming that the team included FBI agents.
"About 20 Americans dressed in civilian clothing came and we were asked to protect them until they leave Benghazi," according to a commander of the Libya Shield brigade, a former rebel unit under defence ministry command.
"They arrived in the early morning and worked for three hours collecting evidence," added the commander, who spoke on condition of anonymity.
Ambassador Christopher Stevens died of smoke inhalation in the September 11 attack after being trapped in a burning building. Another diplomat, Sean Smith, also died at the compound.
Two US security personnel were killed later when an area some diplomatic staff had fled to came under mortar fire.
The Washington Post reported on Thursday that more than three weeks after the attack, sensitive documents detailing delicate information about American operations in Libya remained unsecured in the wreckage of the US mission.
A journalist from the newspaper reported seeing documents detailing weapons collection efforts, emergency evacuation protocols and the personnel records of Libyans who were contracted to secure the mission.
Libyan officials say eight people have been arrested so far in connection with the attack.
Related:
read top headlines on the conflict in Libya