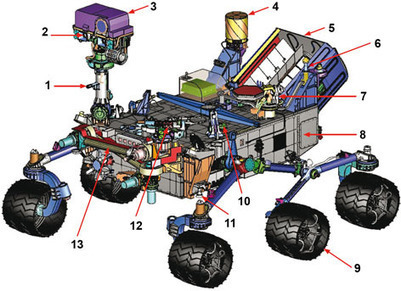 Drawing of Curiosity with an indication of the equipment it has.
Key:
1) Meteorological instruments at weather station,
2) mast cameras and navigation cameras,
3) Chemistry Camera with Laser,
4) UHF antenna for communications with the spacecraft in Mars orbit,
5) Radioactive driven thermoelectric generator,
6) Round Beam Antenna,
7) Hexagonal, directional antenna with a diameter of about 30 cm,
8) Instrument for measuring nøytronintensitet,
9) Wheels,
10) Particle Radiation detector,
11) Descent Camera,
12) Verktøy-/instrumentplattformen the end of the robotic arm,
13) robot arm. In addition, there are two instruments inside the body of Curiosity: chemical / mineral instrument and sample analysis of Mars.