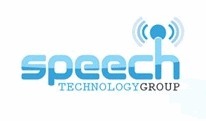 Not a drawing, win for the best joke! Go to the Contest Entry Page
When Gerd Graumann last visited with the VUC in December, we talked about Speech Technology Group's natural text-to-speech voices and launched the speech humor contest.
1) Think of a joke or a skit that can be spoken by our TTS voices.
2) Download the easy to install TTS editor to create the audio
3) Send the audio file
Gerd Graumann will announce the winner of the Amazon Kindle on Feb 3rd on the VUC. He will be discussing speech recognition from Speech Technology Group.