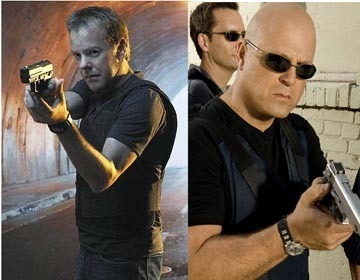 by Frank DiPietro
So over the years, and with the help of a recent season-by-season review through Amazon Prime, we've probably seen almost every episode from every season of both 24 and The Shield.
Both central characters are motivated by what they feel is justice, as defined by their own interpretations. But while Jack Bauer, former head of CTU turned somewhat renegade, does what he does mainly from a combination of personal loyalties and nationalistic allegiance, cop Vic Mackey is motivated mainly by personal loyalties and closed perspectives alone.
With Vic, the greater plan was securing a good retirement fund for himself and a few cops loyal to him, willing to skim, launder, and sock away loot from various criminal stings and arrests they made. Like Jack Bauer, Vic has an intense though somewhat poorly focused loyalty to his family. Unlike Jack Bauer, it's Vic's family who eventually wants to lose him, instead of Jack losing his family although they wanted to be with him.
The shows ran concurrently for a time, on Fox and FX, and I wonder what influence they may have had on each other.
There's an interview with Shield writer and Sons of Anarchy creator Kurt Sutter (who plays Otto in Sons of Anarchy) where he talks about drawing upon actors from The Shield for his new show. Someone asked him if he would ever bring Vic Mackey into Redwood, and Sutter said he had considered this, but Vic was such a strong and polarizing figure from the show that it would be too difficult to break the stereotype. In essence, he would be Vic Mackey visiting the Sons of Anarchy motorcycle club.
In the nature of effectiveness there is also a considerable difference. While both Jack and Vic usually spend a significant portion of each season being suspected of some misdoing or overstepping of their job, when it comes time to pay the piper, Jack seems to have nine lives while Vic has only one.
If you can keep track of the number of times Jack Bauer has been tortured, electrocuted, held by the Chinese and repeatedly tortured, and without belaboring the point generally brought to the brink of death, Vic Mackey has it pretty easy. Vic's big consequence is making a deal which puts him out of the field and into the torture of a desk job.
In 24, it seems that in each season, there are several points where the president either wants to give Jack a medal, or have him hunted and arrested. In season 8 he does his job too well and the president has to lie to him about Russian involvement in murders in order to preserve a peace deal. This is the kind of thing that Vic Mackey wouldn't give a shit about, as long as he had a duffel bag stuffed with money waiting for him in a U-Haul somewhere. But Jack feels compelled to intervene, and his motivation is primarily the killing of his newfound lover and ex-agent Renee Walker by a Russian-hired sniper. Sure he has the nation and the greater good somewhere in mind, but the thing that catches him on fire, as with Vic Mackey, is a personal, often familial ethos.
If Bauer and Mackey were ever set against each other, I wonder how the man who is driven by family and money would fare against the man who is driven by family and patriotism?