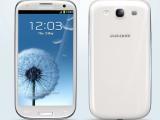 By the end of 2012, almost 20% of annual smartphone shipments will include facial recognition capabilities.
In five years, sales of smartphones and tablets with the technology is predicted to increase to some 665 million units on an annual basis.
[AS: How is the industry preparing for facial recognition-equipped smartphones? What problems could this technology resolve for healthcare?]
My question (from a UX perspective): will that facial recognition go as far as recognizing the 7 basic expressions, and have the software act accordingly? This could be an entirely new "Minority Report".
Via
Andrew Spong