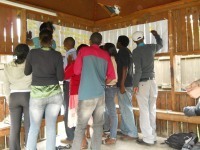 The importance of understanding your customer's needs is something I go on about all the time. In fact, one of my favourite lines is: "tell me in one sentence what problem you are solving for...
This is the heart and soul of "Journey quests", "The Hero's Journey" and basic storytelling approach to Service Design and Customer Journey Mapping. There is conflict over an unmet need or want. And the question, flipped as Steve Jobs might have seen it, is "what problem are you really solving THAT THE CUSTOMER DOESN'T KNOW HOW TO IDENTIFY?
I add this blog post because whether your innovation is visual or not, it must resonate to answer this question.