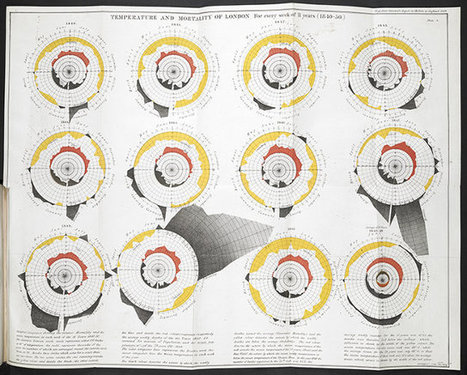 Throughout history, the best data visualizations have served as the public's window onto a complex world.
In a time when everything from the endangerment of the Juggalo to Carrie Bradshaw's shoe collection is turned into a clever little chart, it can be easy to dismiss infographics as trendy and inconsequential. But since ancient Greece, the best data visualizations have furthered popular understanding of science, serving as the nonacademic public's key to knowledge. Some vintage infographics were even used as political tools, effecting social change through educational campaigns.
Beautiful Science: Picturing Data, Inspiring Insight, now on view at the British Library, takes us through the history of data visualization, focusing on themes of public health, weather, and evolution. From a millennia-old illustration of the "Great Chain of Being" to a 2008 NASA animation of the oceans' currents, we see how data visualizers have always sought to turn dense and impenetrable scientific information into accessible, beautiful images, using good design to make learning smoother.