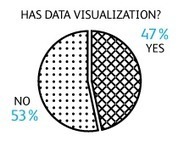 Ever wonder what makes an infographic successful? Why do some infographics accumulate more than 1 million views and others, barely 100?
We've talked about viral infographics before, from a creative process standpoint: the story, data and design of an infographic all play a role in whether it will appeal to the masses, as does the way it is promoted.
But what does viral content have in common? There are more than 16,000 graphics and visualizations on Visual.ly, so comprehensive analysis would take some time. A good place to start is at the very top. Looking at the top 30 pieces of content on the site should yield some clues that will guide more analysis in the future.
The primary statistic used is unique pageviews accumulated since the Visual.ly website launched in July 2011. Each of the top 30 graphics received more than 23,000 unique pageviews. Most of the success of a properly promoted graphic happens within the first week or two of being published, so the length that a particular piece has been on the site will not make a substantial difference in performance here. Also, note that none of the most popular uploads are interactive graphics or videos.