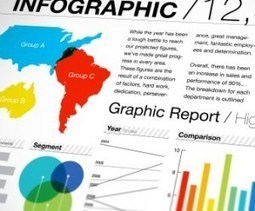 1. Instead of a sea of text talking about how your company helps clients, create a visual representation of such facts. In other words −show don't tell− the reader why your company is the best choice for their needs.
2. Use an infographic to label and explain the benefits of a particular type of machinery or product. The graphic could not only explain the product, but also include key information on how each piece efficiently works to save the client time, money and resources. Research shows that customers choose and even stay loyal to companies who make their lives easier.
3. Create a typographic and chart-based infographic to display the results of company research, case studies or successful sales statistics. Check out the article and infographics for more information...