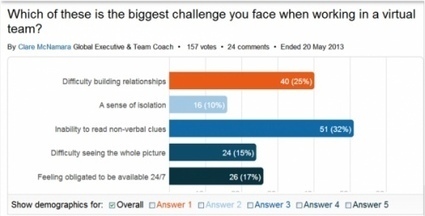 [Clare McNamara & Monica Garcia Romero - MoveAhead Global blog]
Virtual teams⊃1; are here to stay. Due to globalisation, pressure on resources and concern for the environment, virtual working is on the rise. There are obvious benefits (e.g. access to a wider talent pool, reduction in travel costs, increased productivity and reduced time to market). However, in our experience working and coaching in the virtual environment, these often come at a price to both individuals (e.g. difficulty building relationships, sense of isolation) and companies (lack of engagement, conflicts, lack of trust & collaboration, high rates of attrition).
Clearly these challenges are a subject for concern as indicated in our recent research (via LinkedIn polls May 2013). In this enquiry we asked participants to identify their top challenge when working in a virtual team.As you can see in the graphic, the clear winners, the 'inability to read non-verbal cues' and 'difficulty building relationships', are about the quality of human relationships. This is to be expected perhaps but what did surprise us was the large number of votes (157) and the enthusiasm with which people were willing to comment. The topic is clearly striking a chord.
Via
Clare McNamara