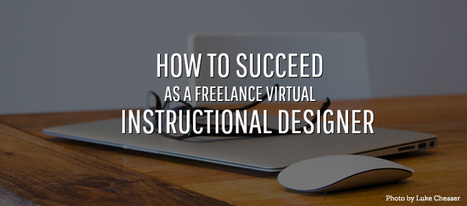 Being a successful freelance virtual instructional designer is not just setting up your home office. Get these valuable insights to be an ID in demand!


Many of us are now embracing the virtual lifestyle in our careers. And we're finding there are great benefits. Without a long commute, we find more time for a better work-life balance, so we can spend more time with friends and family and explore our hobbies. We also put less wear and tear on cars, while doing a small part to protect the environment.
That said, being a successful freelance virtual instructional designer is not as easy as setting up a computer in your home office. I have worked as an instructional designer (ID) both in an in-house office environment and as a freelancer working virtually. I have also interviewed and managed many virtual ID freelancers in my role at SweetRush. I have lived through and understand all too well the differences in the two environments, and how being a successful freelancer takes a special mindset. In-house, you are an employee; to be a successful freelancer, you need an entrepreneurial mindset (or at least demonstrate some entrepreneurial behaviors).
In this two-part series, I will share insights on what I look for when interviewing potential IDs for our engagements and some tips that kept me consistently busy when I was a freelancer—even during some lean years when it was challenging, and so many of my peers struggled to find work. Here in part 1, I'll cover landing projects, and part 2 will focus on behaviors to exhibit once you get assigned to a project team.
Via
Edumorfosis
,
Alfredo Calderón
,
Amy Melendez