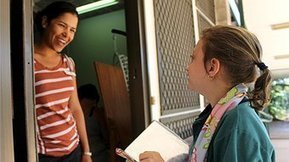 "The classroom door swings open to Caitlin Campbell and her teacher greets her with a recognisable smile. "Hi Caty, what can I do for you?" she says. Caitlin can't say anything.
Today, Caitlin responds to her teacher a different way.
"Hello, can I have your compost please?" comes a voice from an iPad, slung around her neck."
Via
John Evans