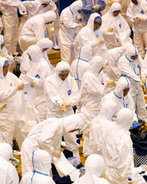 Japan has been forced into the 'emergency slaughter' of 112,000 chickens after confirming that the virus, last seen in the country three years ago, is back.
Urgent DNA tests were conducted after 200 birds suddenly died in just hours at a farm in Kumamoto, southwestern Japan.
Officials have now confirmed it IS the deadly H5 strain of the virus and could even be the SAME super-resistant H5N1 strain that spread around the world within days in 2005 and killed more than 600 people.