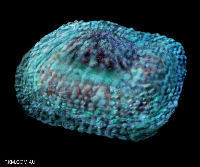 On July 1, 2014, the National Institutes of Health (NIH) notified the appropriate regulatory agency, the Division of Select Agents and Toxins (DSAT) of the Centers for Disease Control and Prevention (CDC), that employees discovered vials labeled "variola," commonly known as smallpox, in an unused portion of a storage room in a Food and Drug Administration (FDA) laboratory located on the NIH Bethesda campus.
The laboratory was among those transferred from NIH to FDA in 1972, along with the responsibility for regulating biologic products. The FDA has operated laboratories located on the NIH campus since that time. Scientists discovered the vials while preparing for the laboratory's move to the FDA's main campus.
The vials appear to date from the 1950s. Upon discovery, the vials were immediately secured in a CDC-registered select agent containment laboratory in Bethesda.
Smallpox virus graphic from Russell Kightley Media