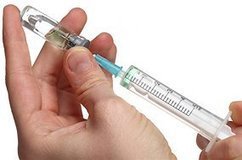 Scientists say they have the key to the blueprint for a universal flu vaccine.
Researchers at the Imperial College London found that certain T-cells protect people from the flu — no matter what strain of the virus hits them. So, targeting the flu from the core instead of stimulating antibodies that protect against specific strains could lead to a one-and-done flu shot.
"We already know how to stimulate the immune system to make CD8 T cells by vaccination," lead researcher Ajit Lalvani of the National Heart and Lung Institute at Imperial College London told The Independent.
"Now that we know these T cells may protect, we can design a vaccine to prevent people getting symptoms and transmitting infection to others. This could curb seasonal flu annually and protect people against future pandemics."