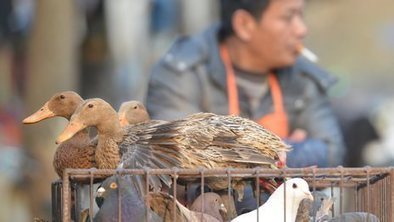 A surge in cases of the deadly new strain of bird flu has been reported in China at the beginning of 2014.
Only a handful of people had been infected with H7N9 since June, but health officials have reported 73 cases so far this month.
Influenza researchers argue the winter season and preparations for Chinese New Year may be driving the increase.
The World Health Organization called for vigilance, saying the virus was likely to remain present for some time.
H7N9 made the jump from infecting domestic chickens and ducks to infecting people at the end of March 2013.
Within a month, 126 cases and 24 deaths had been recorded.
The virus was stopped in its tracks as control measures, such as closing live poultry markets, were introduced.