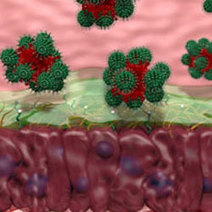 Newly emerging flu viruses could soon be countered by a treatment that Charles Stark Draper Laboratory is developing that "traps" viruses before they can infect host cells.
Further into the future, patients suffering from any type of virus could be cured with DRACO, a drug also under development at Draper that is designed to rapidly recognize and eliminate cells infected by virtually any virus.
Both methods could help safeguard against bioterrorist attacks and naturally occurring pandemics in a manner that is unlikely to lead to treatment-resistant strains. Initial testing on the treatments, which each use tiny, non-toxic particles that can be injected, inhaled, or eaten, has shown them to be effective and safe against a multitude of strains of disease.
Nanotraps, which could be taken at the first sign of infection or exposure, is likely the first of the products ready for use, and is expected to begin clinical trials in two to five years, according to Jim Comolli, who leads the research on the effort at Draper.