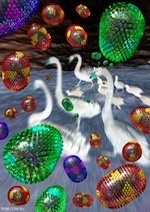 On 20 May 2013, the Taiwan Centers for Disease Control (Taiwan CDC) received a report from a hospital concerning a case of human infection with unsubtypable influenza A virus in a 20-year-old female presenting with mild pneumonia who resides in central Taiwan. The virus isolated from the respiratory specimen from the case was then submitted to Taiwan CDC for further identification. After conducting whole genome sequencing, the National Influenza Center (NIC) at Taiwan CDC identified the virus to be a novel avian-origin influenza A (H6N1) virus. A total of 36 close contacts of the case have been traced for follow-up. Four of them experienced influenza-like illness symptoms, but none of them has been found to be infected with influenza A (H6N1) virus. Taiwan CDC continues to closely monitor influenza activity and advises the public to seek immediate medical attention when experiencing any influenza-like illness with respiratory distress.

According to the epidemiological investigation, the case works at a breakfast shop. She has not traveled out of the country and has not been exposed to any poultry or birds. On [5 May 2013], she developed symptoms, including fever, cough, headache and muscle ache. On [8 May 2013], when her fever persisted and she developed shortness of breath, she sought medical attention at a hospital and was hospitalized for treatment. Her chest X-ray showed mild pneumonia. After administering Oseltamivir, her symptoms improved the next day. On [11 May 2013], she was discharged from the hospital. As of now, she has fully recovered.

Influenza A (H6N1) virus was isolated from the respiratory specimen collected from the case on [7 May 2013]. The case was found to have an antibody titer of 1:20 in the serum specimen collected on [24 May 2013]. Another serum specimen was collected from the case on [8 Jun 2013], and the antibody titer in this specimen was found to be 1:40. Besides testing the respiratory specimen collected from the case for influenza viruses, the NIC also tested the specimen for 23 other common respiratory viruses such as adenovirus, respiratory syncytial virus, coronavirus, enterovirus and rhinovirus, and the specimen tested negative for all these viruses. The agricultural authority has collected specimens from the poultry from the 2 poultry farms located within the one-km perimeter of the case's residence. No avian influenza A (H6N1) virus has been detected in any of the specimens.
Avian influenza graphic courtesy of Russell Kightley Media