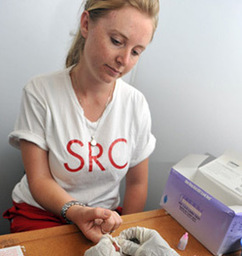 The students filled Jameson hall from 26-28 February to have their HIV statuses tested as part of the annual First Things First HIV Testing and Counselling (HCT) campaign. HIV testing, counselling, treatment and support were all important components of the UCT HIV/AIDS response, says Stella Kyobula-Mukoza, project officer at UCT's HIV/AIDS Institutional Co-ordination Unit (HAICU).

The National Tertiary Testing campaign was borne of a collaboration between the national Department of Health, Higher Education HIV/AIDS (HEAIDS), the South African National AIDS Council, and 23 tertiary institutions around the country. It aims to test thousands of students for HIV and, refer treatment for those who need it and at the same time, address HIV-related stigma.
"It's important for students to take responsibility for their status and encourage other students to get tested and, as such, reduce the stigma around testing at UCT," says Kyobula-Mukoza.