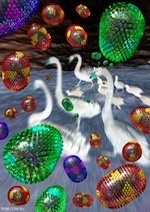 "A government advisory committee yesterday endorsed the safety and immunogenicity of an adjuvant-containing H5N1 influenza vaccine proposed for inclusion in the US pandemic emergency stockpile, signaling that it could become the first adjuvanted flu vaccine to win approval in the United States.
On two unanimous votes, the Food and Drug Administration's (FDA's) Vaccines and Related Biological Products Advisory Committee (VRBPAC) said the immunogenicity and safety data on GlaxoSmithKline's (GSK's) H5N1 vaccine are adequate to support its licensure for use in adults. The aim is to strengthen the US stockpile for the threat of an H5N1 pandemic.
The vaccine contains GSK's proprietary adjuvant AS03, which is used in several other GSK vaccines licensed in other countries. One of these, Pandemrix, used in Europe during the 2009 H1N1 flu pandemic, was linked with an increased risk of narcolepsy in children in Finland, Sweden, and Ireland.
The purpose of the adjuvant is to induce a stronger immune response with less antigen or active ingredient, which AS03 achieves, according to GSK. The vaccine contains 3.75 micrograms (mcg) of antigen, compared with 15 mcg in standard flu vaccines without adjuvants."
This is interesting news, because it means that a paradigm shift is evident in US FDA policy: stockpiling a H5N1 vaccine, AND use of an adjuvant.
I thank Russell Kightley Media for use of the graphic