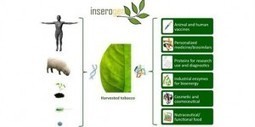 Tobacco use is responsible for almost half a million deaths in the U.S. each year, but the tobacco plant could find redemption as a savior for public health.That's because a U.S. biotechnology startup has transformed tobacco plants into living factories for making new vaccines and medical treatments.
The "SwiftVax" tobacco plants are designed to act as quick, cheap biological factories for churning out bioengineered proteins needed for human or animal vaccines.
Faster vaccine manufacturing could allow the world to respond rapidly to future outbreaks of infectious diseases — a problem it faced while racing to stockpile vaccine during the H1N1 swine flu pandemic.
You'd think they invented it - but it's a nice little puff piece for plant-made pharmaceuticals.