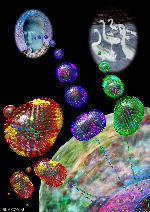 While research on the lab-altered H5N1 virus that can be transmitted between mammals in laboratories is put on hold, scientists are debating how to balance biosecurity with the need for research that could help thwart a pandemic.
The issue: What biosafety containment level (BSL) should be used for the viruses?
The levels range from BSL-1 to BSL-4, which are designated in ascending order by degree of protection provided to lab personnel, the environment and the community. Biosafety levels apply to labs dealing with infectious microbes.
Currently, studies with these viruses, which were engineered to spread via respiratory droplets between ferrets, are being done at BSL-3 or higher facilities. However, Canada has already moved to institute the highest level of biosafety containment research for these viruses....
Meanwhile, farmers in Indonesia and Vietnam continue to breathe 'em in....