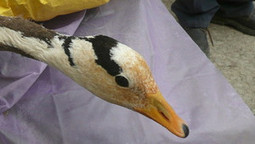 Science and Nature have papers that describe a version of the avian flu that spreads among mammals. The World Health Organization has now weighed in with its thoughts on whether they should be published.
One comment:
"The publication of the full details of the paper would allow anyone with a reasonable level of molecular biology skill to order up the requisite DNA and produce a copy of the newly evolved virus. That raises the risk that the virus could be spread by a lab that doesn't have the requisite containment expertise, or by someone who intentionally uses it as a weapon."
Utter bullshit! The lab would have to ALSO have the skills in reverse genetics to be able to engineer ss(-)RNA segment expession in a context that would allow reassortment with a live flu virus, in order to make something at all!!