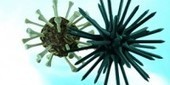 "Opinion: What Is Life?|...What should the definition contain, to be suitable for all varieties of observable life? Humans, animals, plants, microorganisms. Do viruses also belong to life?"
I used to boggle students' minds with this one. Or thought I did - maybe they didn't care??
However, one Honours student (who must have been smart; he dropped out and is now a rabbi) gave me this beautiful definition:
"Life is a series of eddies in the entropic flow - and viruses are smaller eddies within those swirls".