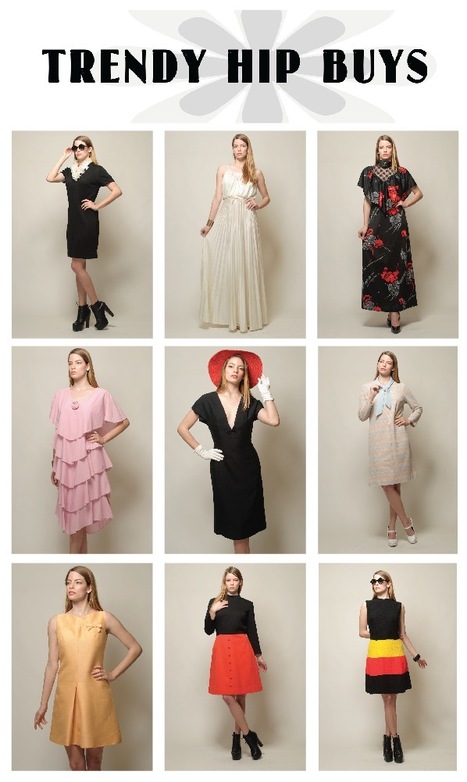 1. How did you get into vintage?
You mean selling vintage? It was pure fate! I got laid off from my job of 10 years due to budget cuts (recession in America). Unfortunately (or should I say fortunately), no one was hiring so I decided start my own business and create a job for myself! I've always wanted to be my own boss and I want my business to be a business that makes a difference for the environment, so I ended up choosing vintage clothing since fashion is fun (especially the mod 60s era), and it is a great way to help recycle. Also, I've always loved unique vintage designs and have always been a collector; everything from cameras, clothes, earrings, vintage radios, glassware, furniture, stuffed animals, records, toys to telephone. Even my stove comes from the 50s! I can never get enough of them!

2. What is your favorite vintage item and how did you acquire it?
A rare 1960s black and off white AM/FM radio! I bought it at an antique shop in North Hollywood. It's such a great find. A true classic piece and it still works and I do use it! ;)

3. How did you come by the shop name? And is there a meaning to it?
I wanted something catchy but not necessarily related to just clothing since I was thinking of selling other unique items in the future as well so I came up with "Trendy Hip Buys". Hip is obviously a slang used in the 30s and 40s which means "fashionably current" or "in the know". I thought it was a perfect name since it has a cool vintage vibe/sound to it.

4. Your shop has a very distinct atmosphere and presentation. How do you go about creating that environment for your customers?
I wanted something pretty clean and simple so I go with a simple background so the clothes will stand out more. I also love styling the clothes with some modern shoes and accessories to show people that you can incorporate vintage clothes into your life and stay stylishly current. Overall, I wanted to show people how amazing the designs were while providing a modern fashion magazine editorial feel to the photographs displayed at the store's website.

5. What is it about Etsy?
They are one of the greatest companies ever! I'm so glad I discovered them! They take so little and give back so much to artists, vintage sellers by providing a selling platform so we all can have a business to call our own. I am so grateful to be able to work from home. I love this company and will support them always.
Spread the love and check out Orada´s links:
shop / twitter / facebook
Via
etsyspot