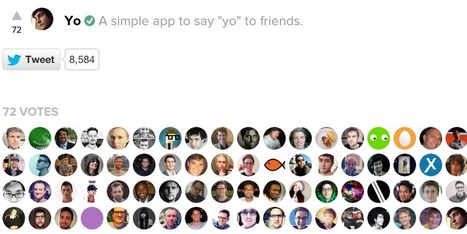 Here's where to find the next big thing.
Product Hunt, founded by Ryan Hoover, is used by a lot of familiar names in Silicon Valley and New York: Greylock Partners, Andreessen Horowitz, Raptor Ventures, Betaworks, SV Angel, Y Combinator, 500 Startups (Dave McClure), Techstars, Index Ventures, First Round Capital, Google Ventures (Kevin Rose, MG Siegler), Dave Morin, VaynerRSE, Cowboy Ventures, Ashton Kutcher, Greycroft, Andrew Chen and others.
The site looks like Hacker News or Reddit, with up-votes to signal which new products are most popular. But instead of sorting through news articles or photos, Product Hunters can expect to find apps that have just bubbled up, like a crowd-sourced Google Play or App Store.
To read the full article, click on the title or image.
Get your Free Business Plan Template here: http://bit.ly/1aKy7km
Via
Jeff Domansky