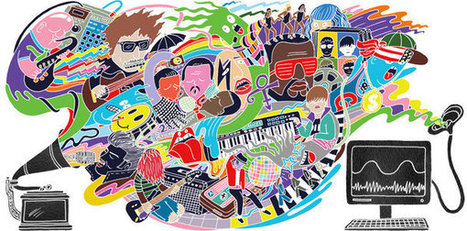 Thanks to advances in computing power, we can analyze music in radically new and different ways. Computers are still far from grasping some of the deep and often unexpected nuances that release our most intimate emotions. However, by processing vast amounts of raw data and performing unprecedented large-scale analyses beyond the reach of teams of human experts, they can provide valuable insight into some of the most basic aspects of musical discourse, including the evolution of popular music over the years. Has there been an evolution? Can we measure it? And if so, what do we observe?
In a recent article published in the journal Scientific Reports, authors used computers to analyze 464,411 Western popular music recordings released between 1955 and 2010, including pop, rock, hip-hop, folk and funk. They first looked for static patterns characterizing the generic use of primary musical elements like pitch, timbre and loudness. They then measured a number of general trends for these elements over the years.
Common practice in the growing field of music information processing starts by cutting an audio signal into short slices — in our case the musical beat, which is the most relevant and recognizable temporal unit in music (the beat roughly corresponds to the periodic, sometimes unconscious foot-tapping of music listeners).
For each slice, computers represented basic musical information with a series of numbers. For pitch, they computed the relative intensity of the notes present in every beat slice, thus accounting for the basic harmony, melody and chords. For timbre, what some call the "color" of a note, they measured the general waveform characteristics of each slice, thus accounting for the basic sonority of a given beat and the combinations of instruments and effects. And for loudness, they calculated the energy of each slice, accounting for sound volume or perceived intensity.
They then constructed a music "vocabulary": they assigned code words to slice-based numbers to generate a "text" that could represent the popular musical discourse of a given year or age. Doing so allowed to discover static patterns by counting how many different code words appeared in a given year, how often they were used and which were the most common successions of code words at a given point in time.
Interestingly, in creating a musical "vocabulary," they found a well-known phenomenon common in written texts and many other domains: Zipf's law, which predicts that the most frequent word in a text will appear twice as often as the next most frequent word, three times as often as the third most frequent, and so on. The same thing, they found, goes for music.
If we suppose that the most common note combination is used 100 times, the second most common combination will be used 50 times and the third 33 times. Importantly, they found that Zipf's law held for each year's vocabulary, from 1955 to 2010, with almost exactly the same "usage ordering" of code words every year. That suggests a general, static rule, one shared with linguistic texts and many other natural and artificial phenomena.
Beyond these static patterns, they also found three significant trends over time. Again using pitch code words, they counted the different transitions between note combinations and found that this number decreased over the decades. The analysis also indicated that pop music's variety of timbre has been decreasing since the 1960s, meaning that artists and composers tend to stick to the same sound qualities — in other words, instruments playing the same notes sound more similar than they once did. Finally, they found that recording levels had consistently increased since 1955, confirming a so-called race toward louder music.
Via
Olivier Lartillot
,
Simon Decreuze