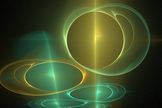 Some people may actually see sounds, say researchers who found this odd ability is possible when the parts of the brain devoted to vision are small. Brain anatomy is key to seeing this illusion. These findings points to a clever strategy the brain might use when vision is unreliable, investigators added. Scientists took a closer look at the sound-induced flash illusion. When a single flash is followed by two bleeps, people sometimes also see two illusory consecutive flashes.
Past experiments revealed there are strong differences between individuals when it comes to how prone they are to this illusion. "Some would experience it almost every time a flash was accompanied by two bleeps, others would almost never see the second flash," said researcher Benjamin de Haas, a neuroscientist at University College London. These differences suggested to de Haas and his colleagues that maybe variations in brain anatomy were behind who saw the illusion and who did not. To find out, the researchers analyzed the brains of 29 volunteers with magnetic resonance imaging (MRI) and tested them with flashes and bleeps.
audrey@homeschoolsource.co.uk Psychology Tutor says:
Ramachandran and Hubbard (2003) carried out research with synaesthesia, where people experience objects seen as a smell or a sound. They looked at the case of Esmeralda Jones, who sees the colour blue when she hears the musical note C sharp. She uses this skill to colour code piano keys, which helps her remember and play music.
This type of ability is shown in other ways using two different shapes. One smooth and curvy and the other jagged and pointy. It was found that 95-98% assigned the name "bouba" to the rounded shape and "kiki" to the jagged, even though none of the participants had ever seen the shape. So, what are the implications?
Hubbard and Ramachandran argued that The Bouba-Kiki Effect is actually an example of synaesthesia; the conflation of one sense with another; and that humans learn to associate certain sounds with certain shapes as they develop. Therefore the language we use can significantly influence how we think about the world around us.
This is so amazing. Anyone who wants to try the Boba-Kiki effect can contact: audrey@homeschoolsource.co.uk or you can find it on the website and try it yourself.
Via
Dr. Stefan Gruenwald